EMPOWERING DREAMS. TRANSFORMING LIVES
Dream Center of Hampton Roads is a dedicated 501c3 non-profit, passionately committed to transforming lives in our community. Through our Fresh Start program, we offer showers, underclothes, and essential toiletries, while our Transitional Housing initiative provides a safe haven for the homeless. With the support of our local community partners, we strive to uplift and empower the underserved, breaking down barriers and paving the way to an improved future.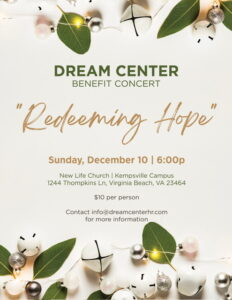 Join us for a special night to benefit the Dream Center of Hampton Roads featuring recording artist Earl Bynum.
Read More »